1969 - 1982

Data General
Westboro, MA

Director, Advanced Systems
Project Engineer
Design Engineer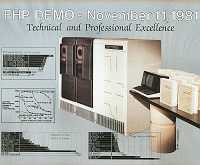 Fountainhead Project
Benchmark Results, 1981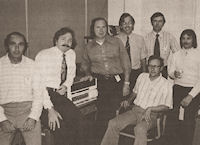 Eclipse Design Team, 1974
Left to right
Al Lyons, Ron Gruner,
Bill Churchill, Tom West,
Carl Alsing, Jack Carroll,
Bruce Loughlin (seated).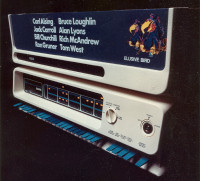 The "Elusive Bird" Marketed as the Eclipse Series, 1974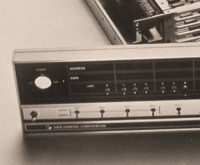 Nova 1200 Control Panel, Chassis and Power Supply, 1970

Original Nova Brochure, 1968
I first met three of Data General's four founders when Ed deCastro, Henry Burkhardt and Dick Sogge team-interviewed me together for two hours. Somehow I got through it and was offered a job. Afterwards I bought myself a shrimp cocktail, steak and Lowenbrau, maybe a couple of Lowenbraus.

I started a month later as Data General's 43rd employee. My first project was as a junior engineer helping to design a high-end extension of Data General's original computer, the Nova. Things moved fast in those days. The new machine, marketed as the Supernova, was designed, tested and announced in seven months. It only sold moderately though due to limited demand at the time for high-performance; a machine ahead of its time.

Shortly after wrapping up the Supernova, I read about a breakthrough integrated circuit from Texas Instruments. The circuit was a 64-bit random-access memory ("RAM"). It struck me that this chip could be the basis for the successor to the original Nova since the Nova was based on an architecture which thrived on RAM. After proposing an initial design, I was given responsibility for the design of the new computer. Once again, the development process was only about six months and the new machine, marketed as the Nova 1200, was announced in late 1970. It was a major success generating over a billion dollars in revenue over its product lifetime.

Not long after the Nova 1200 went into production, we were beginning to feel pressure from DEC's PDP-11/45, a high performance machine that was outperforming our current high-end computer, the now aging Supernova. After proposing an approach based on a microprogramming architecture, I was made project engineer for the effort with the directive to "get a '45 Killer' out as fast as possible." It didn't happen. The project took nearly two and a half years. Too much new technology, too many people, too little experience with larger, more complex projects, all contributed to the delays. The machine was so late that we began calling it the "Elusive Bird" after song lyrics lamenting "that elusive bird of love." Marketed as the Eclipse, it was announced in October 1974 and was immediately successful running three to five times faster than the PDP-11/45.

The speed of the Eclipse made many new applications possible. One new area I was quite involved in was computer-aided-tomography, or CAT Scanners. Working closely with both British-based EMI, the technology's pioneer, and General Electric, the largest US-based manufacturer, Data General became through the mid-1970s the exclusive provider to these firms for CAT Scanning computers.

Once again though technology was changing and by 1976 Data General needed a major revamping of its computer architecture to accommodate larger memory capacities. DEC was already well along with their next generation architecture, soon to be announced as the VAX 11/780.

After consideration, it was decided to abandon our current approach, an extension to the Eclipse based on memory segmentation, and develop an entirely new "high-level language architecture." And therein lies a story. Actually a Pulitzer prize winning story written by Tracy Kidder in his book, The Soul of a New Machine. The book documents a battle of two competing projects within Data General: the Fountainhead Project ("FHP") based on high-level languages, and the Eagle led by Tom West (Tom passed away May 19, 2011. His Obituary.), started well after Fountainhead and based on the existing Eclipse using, yes, memory segmentation. For the whole story, read The Soul of a New Machine where I play the role of the "North Carolina Leader" heading the FHP Project.

The Eagle, announced as the Eclipse MV/8000, won the race and gave Data General a strong competitor to DEC's VAX. The Fountainhead Project was completed and ultimately ran benchmarks significantly faster than any commercial minicomputer, faster even than IBM's 370/158, a multi-million dollar mainframe. But Fountainhead was late to market and did not survive.

Once the smoke cleared from the Eagle and Fountainhead competition, I was promoted to Director of Advanced Systems responsible for all Data General's high-end computing efforts. Ironically, these efforts were based exclusively on my erstwhile competitor, the Eagle. After spending a year in this role developing extensions to the Eagle, I decided that if I ever wanted to start my own company, now was the time. So in May, 1982 I left Data General after thirteen years to form a new company -- the nature of which I had only a general idea.

For an insightful view into Data General, and the computer industry in general during this period, read Bill Foster's autobiography. Bill was Data General's software vice-president in the late-seventies and went on to found Stratus Computer

Data General was tremendous fun during most of the time I was there. The founders, deCastro, Burkhardt, Sogge and Richman, were highly-motivated, self-directed individuals who were extremely competent in their respective areas. For the most part, they treated employees as equals, so if you didn't learn to 1) know what you're talking about, 2) find solutions to problems without much direction, and 3) thrive in a near Darwinian environment, you didn't last. Most of us did though and dozens went on to start their own companies.
---